Link
10.10.2010 :: 00:00
Komentuj (1)
Short information about Lodz
Old postcards and photographs -Lodz
Made in Lodz (archive of old Lodz photographers)
History of Lodz –
photography

70 old photographs
Lodz Story (Historie Łódzkie - łódzki portal historyczny/
)
for example:
Piotrkowska Street
Blog
http://www.skyscrapercity.com/showthread.php?t=221544

(about 90 old postcards
and photographs from Lodz)
for example:
Scheibler
factory (Pl. Zwycięstwa) – near Museum of Cinematography (II World
War)
Blog with old
photographs
http://www.skyscrapercity.com/showthread.php?t=221544&page=9
for example:
Biedermann factory now
(near Helenów Park)
Zielona Street
(German postcard)
Films
and Lodz
advertisements on YouTube:
Lodz
postindustrialna/ Postindustrial Lodz
http://www.youtube.com

/watch?v=Yu-t3cgpPNs&feature=related
Łódzkie
fabryki (Lodz

factories)
http://www.youtube.com/watch?v=KSkZhLG8PP0&feature=related
Łódzkie fabryki są zabijane! Lodz


factories

killing

!
http://www.youtube.com/watch?v=Kbw-wRCyLnE&feature=related
Geyer


factory demolition


http://www.youtube.com/watch?v=dcYESZIj_0I&feature=related
Fabryka
Biedermanna (Biedermann factory demolition)
http://www.youtube.com/watch?v=ouhsb22IMvM&feature=related
Znikam...

(Vanishing


…) Biedermann Factory
http://www.youtube.com/watch?v=ORlrxcUhxxs&NR=1
Rewitalizacja Białej
Fabryki / Revitalisation of White Factory
http://www.youtube.com/watch?v=vzmHpLsMPiU&feature=related
Biała Fabryka w Łodzi /White Factory in Lodz
http://www.youtube.com/watch?v=6RQzCUegmtk&feature=related
Fabr

yka
snów (Dream factory – Lodz view from the train)

http://www.youtube.com/watch?v=BWZJf-EPnmY&feature=related
SPOT CITY (Lodz

advertisement
attack)
http://www.youtube.com/watch?v=4U5qTnlHFJI&feature=related
A


short walk through Łódź / Lodsch / Lodz

http://www.youtube.com/watch?v=b8sUuhMllDY&feature=related
Krzysztof Kieślowski - Z miasta Łodzi (1969) cz.1
(From Lodz City – women from Lodz factory part 1)
http://www.youtube.com/watch?v=_P9944KOL8U&feature=related
part 2:
http://www.youtube.com/watch?v=qutenDnx6eM&feature=related
Łódź Manufaktura prawie jak w XIX wieku!

(work
in a factory – short film)
http://www.youtube.com/watch?v=RdE2PUK864k&feature=related
Łódź
przedwojenna (Lodz
before the II World War, National Film Archive)
http://www.youtube.com/watch?v=pp7hGXoFIsQ&feature=related
Łódź (EC-1) by snakeeyes
(3/2007) / Power
Station EC-1
http://www.youtube.com/watch?v=Aa8HZcxYygs&feature=related
Łódź - EC1

/
Power Station EC-1
http://www.youtube.com/watch?v=N6V62DvwwHI&feature=rela

ted
Łódź - Magic
Place

http://www.youtube.com/watch?v=MI6h1Isgs60
Łódź
the City of Culture (Part 1
and part 2)

http://www.youtube.com/

watch?v=uHtBwjey13c
Miasto Łódź , City Lodz
(archiwum)

http://www.youtube.com/watch?v=7pJ-gZJlBbw&feature=related
Litzmannstadt - zdjęcia z okupowanej Łodzi (Lodz
under occupation / II World War -photographs)
http://www.youtube.com/watch?v=94y7oUx2B_U&feature=related
Weh

rmacht
w Łodzi 1939 (Wehrmacht in Lodz 1939 September)
http://www.youtube.com/watch?v=UB__D8fIX9w&feature=related
ŁÓDŹ - Wyzwolenie Łodzi
19.01.1945 / Lodz - liberation 1945
http://www.youtube.com/watch?v=TONFGNJUiL4&feature=related
Voices from the Lodz Ghetto


http://www.youtube.com/watch?v=gWoNckPxBPo&feature=related
Litzmannstadt
Ghetto - The bridge of the memory

http://www.youtube.com/watch?v=lWMu3LDnm0k&feature=related
Fotoamator / Photographer - 1 of
2 A story about Lodz Ghetto

http://www.youtube.com/watch?v=QvUdffAhFH4&feature=related
Fotoamator
/ Photographer - 2 of 2 A story about Lodz Ghetto


http://www.youtube.com/watch?v=fzMPBrNOx4I&feature=related
Wieże Fabryk –
Lizmannstadt Factory Tower

http://www.youtube.com/watch?v=ZPBHg5Y_BPw&feature=related
INTRO Litzmannstadt - Visual Blitzkrieg



http://www.youtube.com/watch?v=C7kh1qWl0zg&feature=related
łódź- ziemia obiecana (zdjęcia archiwalne) Lodz
- Promised Land (old photographs)
http://www.youtube.com/watch?v=41_1AlG3Vy0&feature=related
Łódź Szara? Gray Lodz?
http://www.youtube.com/watch?v=7WtCiTGrR_s&feature=related
Zdjęcia
z Łodzi [Massive Attack - Pray for Rain] clip


http://www.youtube.com/watch?v=wYc3WOrC4M4&feature=related
Lodz miasto moje / Lodz my
city
http://www.youtube.com/watch?v=UngAtaClj6Q&feature=related
Welcome to Lodz


http://www.youtube.com/watch?v=Ozt6OIQMcxY
Łódź, miasto inspiracji |
Lodz, city of Inspiration


http://www.youtube.com/watch?v=FlGycNzzk1o&feature=related
Ricksha drive on Piotrkowska
street, Łódź


http://www.youtube.com/watch?v=USgdPLMZpvI&feature=related
Link
12.10.2010 :: 10:30
Komentuj (0)
Places of open-air workshop
Lodz City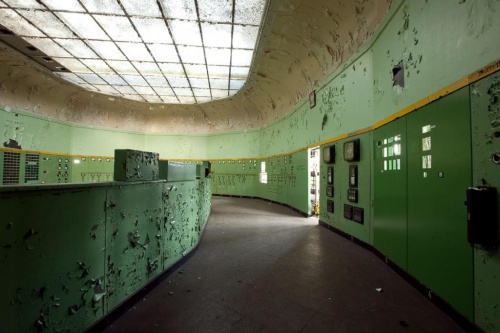 EC 1 power plant photo. Yamile Calderon
Manufaktura Izrael Poznanski's factory in Lodz, the old linen factory in Bałuty district, neo-Romanesque, brick, built in the years 1872-1892, designed by Hilary Majewski for Israel Poznanski, the largest factory of the Kalisko-Mazowiecki industrial district, nationalized in 1945, entered in the register of monuments in the years 1971-1993, since 2006 housed a shoping center Manufaktra. EC 1 power plant The first power plant in Lodz was opened in 1907. The oldest engine room, from 1906-1907, has reinforced concrete floor-ceiling assembly, and was the first building in Poland to feature such construction. Between 1929 and 1930 the power plant was extended due to construction of a complex called the New Control Station in its western part. At the moment, works connected with the New Center of Łódź project are under way, which include conversion of the former power plant site into a cultural area. The place already houses the legendary Se-ma-for film studio, and the Fable Scheiblers' factory warehouses The area of Karol Scheiblers' former industrial complex was over the 1880s and 1890s. The Warehouses situated near the bleachery and the finishing shop were used to store textile products. Between the buildings one can still see the remains of a railway siding belonging to the Scheilber. Nowadays, the buildings house the Lodz Art Center and Fabtyka Sztuki (Factory of Art), while their industrial atmosphere fosters various artistic and cultural projects. One of the most important projects conceived and carried out by the Lodz Art Center is ''Łódź - European Capital of Culture 2016'' The Scheiblers' Power Station The power station was built in 1910 according to a design by engineer Alfred Frisch. It powered all the facilities within the industrial empire of the Scheiblers, and is a rare example of an Art Nouveau industrial building. Inside, the futures of most interest are the tiles with floral motives, geometric stained-glass windows and a coffer reinforced concrete floor-ceiling assembly. Part of the original equipment has been preserved, including an AEG turbine dated 1938. The power plant was closed in 2003 due to its lack of compliance with environment standards. A climbing wall was located here for a few years but nowadays the building is used occasionally for various cultural events. Karol W. Scheiblers' Spinning Mill in Księży Młyn The Spinning Mill built between 1870 and 1873 was the first building in Karol W.Scheibler's ''Księży Młyn'' industrial building in Lodz, and proof of Scheibler's domination. The building's architectural style refers to medieval defensive architecture, mostly due to the massive towers in the corners. At present the Building has been converted to residental functions after several years of renovation works. The Scheiblers' fire station in Księży Młyn Firefighters were present in Karol Scheiblers' industrial plants from 1878, while the present building was built in 1890s.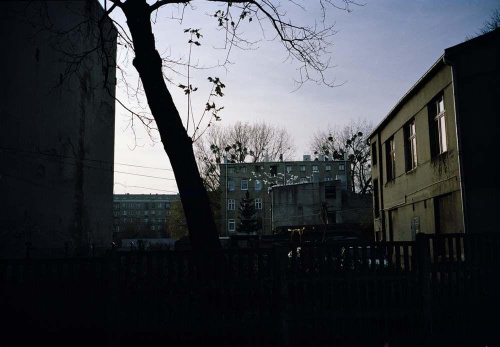 photo. Bjarne Bare
The fire station is dominated by a high observation tower featuring gothic elements. At the back are the former firefighters' homes and an ornametal pump. After thorough renovation, the building was converted into an office center. The original appearance was preserved thought, including the original doors of the former coach houses and an alarm gong on the tower. Scheibler Workers' Homes in Księży Młyn This estate of workers' houses was built between 1873 and 1885 and 1889. It complimented the whole industrial complex of the factory, the industrialist's residence and social and technical facilities. The oldest part consist of 3 rows of residential buildings, in between which there are out-buildings. The homes were only for the families of masters and qualified workers in the Scheibler's factory. The Scheiblers' Factory School in Księży Młyn Scheibler opened a school for his factory workers' children in 1876, and it was the first institution of this kind in Łódź. The school building is a part of Księży Młyn estate, closing the way leading from the spinning mill to the residential houses. It consist of several buildings added in consecutive years, combined into a harmonious whole and consistent with the architectural style of the complex. Ul.Piotrkowska Piotrkowska Street(in Polish:Ulica Piotrkowska), the main artery of Łódź, Poland, is one of the longest commercial thoroughfares in Europe, with a length 4.9km. It is one of the major tourist attractions of the city. It runs longitudinally in the straight line between the Liberty Square(Plac Wolności) and the Independence Square (Plac Niepodległości). From the very beginning this street was the central axis, around which the city grew bigger, and its development spontaneously gave the present shape to its centre. At first the city was mainly the highway, but later it changed into the city's showcase, the leisure and shopping centre, where the life of growing industrial agglomeration could be observed. The street deteriorated remarkably after the World War II. Only after 1990 was it revitalized step by step and changed into a kind of pedestrian precinct. It has a function similar to a market square of old towns in other cities. Nowadays the buildings, town-planning, institutions, restaurants, clubs and pubs situated next to this street, create its specific atmosphere, which is said to have a ''cult'' character reaching even outside of Łódź. Poznanski Weaving Factory (Manufaktura) http://www.manufaktura.com/EN/AboutUs/MoreAboutManufaktura/History/ObjectId/107/Default.aspx





Bergen - 'the city among the seven mountains'

photo. A. Różycki
The Old Norse forms of the name were Bergvin and Bjørgvin (and in Icelandic and Faroese the city is still called Björgvin). The first element is berg (n) or bjørg (f), which translates to mountain. The last element is vin (f), which means a new settlement where there used to be a pasture or meadow. The full meaning is then 'the meadow among the mountains'. A suitable name: Bergen is often called 'the city among the seven mountains'.
Bergen is located in the county of Hordaland on the south-western coast of Norway. It is an important cultural hub in its region, recognized as the unofficial capital of Western Norway and sometimes also referred to as the Atlantic coast capital of Norway. The city was one of nine European cities honoured with the title of European Capital of Culture in the Millennium year.
The city of Bergen, traditionally thought to have been founded by king Olav Kyrre, son of Harald Hardråde in 1070 AD, four years after the Viking Age ended. Modern research has, however, discovered that a trading settlement was established already during the 1020s or 1030s. It is considered to have replaced Trondheim as Norway's capital in 1217, and that Oslo became the de jure capital in 1299. Towards the end of the 13th century, Bergen became one of the Hanseatic League's most important bureau cities.
In 1428 the city was plundered by pirates on a mission for the Hanseatic League, the same who was responsible for burning down Munkeliv Abbey in 1455. In 1476, Bryggen burned down in a fire started by a drunk trader. In 1582, another fire hit the city centre and Strandsiden. In 1675, 105 buildings burned down in Øvregaten. In 1686 a new great fire hit Strandsiden, destroying 231 city blocks and 218 boathouses. The greatest fire to date happened in 1702 when 90 percent of the city was burned to ashes. In 1751, there was a great fire at Vågsbunnen. In 1756, a new fire at Strandsiden burned down 1,500 buildings, and further great fires hit Strandsiden in 1771 and 1901. In 1916, 300 buildings burned down in the city centre, and in 1955 parts of Bryggen burned down.
In 1349, the Black Death was inadvertently brought to Norway by the crew of an English ship arriving in Bergen.In the 15th century, the city was several times attacked by the Victual Brothers, and in 1429 they succeeded in burning the royal castle and much of the city. In 1536, the King of the country was able to force the Saxon merchants to become Norwegian citizens, or else to return home, heralding a decline in the Saxon influence. In 1665, the city's harbour was the site of the Battle of Vågen, between English ships on the one side and Dutch ships supported by the city's garrison on the other.
During World War II, Bergen was occupied on the first day of the German invasion on 9 April 1940, after a brief fight between German ships and the Norwegian coastal artillery. On 20 April 1944, during the German occupation, the Dutch cargo ship Voorbode anchored off the Bergenhus Fortress, loaded with over 120 tons of explosives, blew up, killing at least 150 people and damaging historic buildings. The city was subject to some Allied bombing raids, aiming at German naval installations in the harbour. Some of these caused Norwegian civilian casualties numbering about 100.
en.wikipedia.org

Link
12.10.2010 :: 16:41
Komentuj (1)
The wet collodion process
The wet collodion process is a technique which is unpredictable because each plate is indyividually treated. Apart from the lack of standardization of the chemical process, it is easily succeptible to artistic provocations, and the result is the consequence of these processes. Filled with photographic dirt stains, damp patches, colodion emulsion marks and the use of developer it becoms filled with emotions.

Each plate is unique thanks to its individual technique. Because of that it also makes its own interpretation of the world. It is subject to the living creatures law it is imperfect and unpredictable. It dose not follow standardization or planning when it comes to the final visual effects it lives its own life, and sometimes it has its own way of leading the author.The magical and changeable way. Simple and complex. Filled with alchemical processes, and, finally, photosensitive.






Link
12.10.2010 :: 19:07
Komentuj (0)
About project
SHAPING TIME
-time and the city
"Time – the system of those sequential relations that any event has to any other, as past, present, or future; indefinite and continuous duration regarded as that in which events succeed one another." dictionary.com
In one way or another we all relate to it, we all are affected by it and there is no escape. A beginning and an end for everything. Untouchable and abstract yet completely clear and evident it has twisted the minds of philosophers, scientists, writers and plain thinkers for milleniums. Most of all it tops the list of things we´d like to be able to control, change, turn back, or even undo. I like to think that the closest there is of controlling time comes to either medicine –the possibility of a certain death getting reversed back into life, or technology –where any moment is given the oppurtunity to be preserved and instantly shared with others through photography and video.
Officially given to the world by Louis Daguerre and the French government in 1839, photography has since streched the definitions of truth and language. In the beginning the photographers were all amateurs, experimenting with and developing this gift. In 1878 Eadweard Muybridge took a step forward towards the moving image by using multiple cameras to successfully capture motion. Today, several decades later the photgraphic evolution has come to a point where HD cinema and automatic cameras are available to most citizens of the world, and almost to consider a human right. This workshop aimed to reflect upon the historic aspects of time and photography, as well as time and the city. In October 2010 Hilde Jørgensen and myself invited a group of Norwegian artists and art students to head for the Filmschool in Lodz to get an introduction in wet collodion techniques, and to the ongoing gentrification of the former industrial parts of Lodz. We were given the oppurtunity to produce images as if it was the industrial heydays of Lodz in the 1860s. The images were made in a studio for practical reasons, but the workshop also offered field trips to remaining factories in the city. Some of the factories were renovated into fancy shopping malls or apartments, while others kept in decay and waiting to be torn down.
In addressing the past as of technology we find Finn Arne Johannesen´s project P.I.P. – Pinhole in Poland. Using a pinhole camera, which basically consists of a small little box, with a small little hole, that are manually operated to project light on to a negative inside the box. Dealing with long exposures the box needs to be set upon a tripod. In Johannessen´s case the pinhole camera is capturing the surroundings from a waist down perspective, like the perspective of a child exploring the world. Johannessen follow this up even more by keeping his compositions simple and playful.
Kristin Tårnesvik process found imagery into new meanings. In her series PLAY we see aerial photographs from what seems to be 1942 retitled by the artist. The first image "rewind" outlines a semi-urban city with a sports arena, train station and elaborate parks, as well as extensive farming. "pause" seems to move over a suburban area with houses in tight rows and a garden for every house. Cultivated lakes and a large factory occurs in this google map-like photograph. "forward" leads us straight into the city center, with boulevards and renaissance buildings. Looking closely you soon realize that the three images conjuncts the same city, which brings to mind social classes coexisting in cities without ever running into one another.
Alette Schei Rørvik´s "Alias anno 1920" depicts a woman dressed in an early 1900s dress. There´s a hand movement that reveals a quite long exposure, not unusal in photographs taken from that time. However, this is a selfportrait by the artist inside a workers apartment for a textile factory in Lodz. With a performative approach Schei Rørvik enters the sphere of an industrial textile worker by reconstruction. It could easily be mistaken for an authentic moment unless a closer look would reveal otherwise.
Bjarne Bare delivers a work within the tradition of snapshots. In his series"Time and time again in the Manchester of Poland" his motives appears swift and made from a state of a passer-by, but yet very carefully composed. Bare turns his camera in unexpected directions and captures what others may have walked by for a lifetime without ever noticing.
Photography is known to fill the function of a witness. In Geraldine van Wessem´s photographs we see missing tiles fallen or taken from the wall, rust in the process of consuming a door and more of what strikes me as interior still lives. Yet there is something else to it, as if we are witnessing a witness. Old and worn down, these interiors have lived and come to an end when van Wessem set out to reveal decades of activity, long gone functionality and secrets to be kept.
Hilde Jørgensen´s series "time hang heavy" comes across as a variety of front pages or illustrations for novels. Astonishingly random yet focused, they all give the impression of a deep and unexpected connection to eachother. Each image is just a first step into an ocean of stories in black&white and blue, about humanity in relation to biology and sanity. "How sad life is" outlines a dysfunctional tram track in a harsh black and white print. It embodies the feeling of helplessness. The entire series cries out an effort to escape and regain control.
Smoking chimneys and a blue surface strikes the viewer in"Seeing as a kind of belonging" by Katinka Goldberg. Most photographs are taken from a close range, exploring and later finding it´s place in a collage of Yours and Mine. As glimpses of an immediate reflection upon existance, Goldberg´s images shifts from tremendously distant to immensely close. From a factual view of a factory to a sculptural duvet, together they come through as a common experience.
Maya Økland is in fact the author of this text as well as a participant. In my project I have put my attention to how the past and the present, and sometimes even the future coexists and occurs simultaneously. It is easy to spot this in Lodz by it´s rich history of industrialisation, worldwar and communism still colouring the everyday life of its citizens. Terminated factories testifies of a lost domain but also symbolizes the future with its potential when renovated or given a new function.
Siri Sætre´s series "Fable" and "Study of ghosts: Sorrow/Hope/Resignation" outlines dreamlike settings from polaroids. In "Fable" it is unclear wether the image is one single shot – with three different lenses, or three shots from three different angles. Instant images without the possibility of postproduction allows for chemical reactions to interfere with the compositon, giving up control and leaving it all to the imagination.
Hector Pina Barrios is the only participant in this project that does not rely on images alone. With a background from architecture Pina Barrios operates within relational aesthetics when he interacts with his audience. "Lodz instruction for landscape comprehension" sets out to challenge the readers creativity and encourages them to complete his art work by sending in images of the task. Results will then be published in a special blog http://thelodzproject.wordpress.com/
Thoroughly detailed documentations, of what comes to mind as a science fiction film set from the 60s or 70s, explores modern technology from the 1900s in Yamile Calderon´s "Traces of the past". What could be the control room in a green mother ship are in fact a terminated power plant. The straight forwardness and well balanced exposure in Calderon´s compositions serves as a great backdrop for a vivid imagination, as well as an in-depth study of an abandoned textile factory.
Veneers (rusty no 2, 4 & 5) by Marthe Elise Stramrud leads us into abstraction, which, on my behalf indicates evil Disney characters. But the title reveals that it represent an iron surface. A container in decay, with a disturbing pattern recurring to our awareness. Time cease to exist in Stramrud´s series, trapped in a corner the viewer meets no other options than to surrender.
SHAPING TIME
– time and the city
«Tid – et system av de sekvensielle forhold som enhver hendelse har til noen annen, som fortid, nåtid eller fremtid; en ubestemt og konstant varighet betraktet som den hvor hendelser følger hverandre.» dictionary.com
På en eller annen måte kan vi forholde oss til tiden, den påvirker oss, og vi kan ikke unngå den. En begynnelse og en slutt for alt. Upåtagelig og abstrakt, og likevel så helt klar og tydelig at filosofer, forskere, forfattere og vanlige tenkere i årtusener har brydd sine hjerner med den. Først og fremst topper den listen over saker vi ønsker å kunne kontrollere, endre, ta tilbake, eller til og med gjøre ugjort. Jeg liker å tro at det nærmeste vi kommer i å kontrollere tiden er enten medisin – mulighet til å bli redd fra en sikker død og vende tilbake til livet – eller teknologi – der hvilket som helst øyeblikk får sjanse til å bli bevart og umiddelbart delt med andre ved hjelp av fotografi og video.
Fotografi, som Louis Daguerre offisielt skjenket verden og den franske regjeringen i 1839, har siden den gang utvidet definisjonen av sannhet og språk. I begynnelsen var fotografer alle amatører som eksperimenterte og utviklet denne gaven. I 1878 tok Eadweard Muybridge et skritt frem mot bevegelige bilder gjennom å benytte seg av flere kameraer i et vellykket forsøk på å fange bevegelse. I dag, noen få tiår senere, har fotografiets evolusjon kommet til et punkt der HD-kino og automatiske kameraer er tilgjengelige for de fleste verdensborgere og blir nesten betraktet som en menneskerett. Målet med denne workshopen var å reflektere over historiske aspekter av fotografi så vel som tid og by. I oktober 2010 inviterte Hilde Jørgensen og jeg en gruppe norske kunstnere og kunststudenter til å sette kurs mot Filmskolen i Łódź for å få innføring i kollodium våtplateteknikken og den pågående gentrifiseringen av tidligere industriområder i Łódź. Vi fikk anledning til å skape bilder som om det var Łódź' industrielle storhetstid på 1860-tallet. Av praktiske grunner ble bildene laget i et studio, men workshopen bød også på feltturer til de fabrikker som er igjen i byen. Noen av disse fabrikkene ble renovert til fancy kjøpesentre eller leiligheter, mens de andre fortsatt forfaller og venter på å bli revet.
Ved å henvise til fortid i teknologisk forstand finner vi Finn Arne Johannesens prosjekt – P.I.P. – Pinhole in Poland. Han bruker et hullkamera, som i utgangspunktet består av en liten kasse med et lite hull. Det betjenes manuelt slik at lyset blir projisert på en negativ inne i kassen. Ved lang eksponeringstid må kassen settes på stativ. I Johannessens arbeider fanger hullkameraet omgivelsene fra et midje-nivå perspektiv, liksom fra perspektivet til et barn som utforsker verden. Johannessen følger dette konseptet enda mer gjennom å holde sine komposisjoner enkle og lekefulle.
Kristin Tårnesviks prosess gav nye betydninger til billedspråket. I serien PLAY ser vi flyfoto, tilsynelatende fra 1942, omtitulert av kunstnerinnen. Det første bildet «rewind» skisserer et tettsted med en idrettsarena, jernbanestasjon, velholdte parkområder så vel som med et omfattende jordbruk. «pause» tar oss til en forstad med hus i tette rekker og en hage for hvert hus. I dette Google Maps-lignende fotografiet kommer dyrkede innsjøer og store fabrikker til syne. «forward» fører oss rett inn i byens sentrum med bulevarder og renessansebygninger. Ser vi litt nærmere, blir vi snart klar over at de tre bildene forbindes av den samme byen, hvilket minner om samfunnsklasser som samtidig eksisterer i byer uten noen gang å støte på hverandre.
Alette Schei Rørviks «Alias anno 1920» fremstiller en kvinne iført en kjole fra begynnelsen av 1900-tallet. Håndbevegelsen avslører en ganske lang eksponering, ikke så uvanlig for bilder fra den tiden. Men dette er et selvportrett av kunstnerinnen inne i en leilighet for ansatte i en tekstilfabrikk i Łódź. Med en performativ tilnærming og gjennom rekonstruksjon kommer Schei Rørvik inn i en tekstilindustriarbeiders sfære. Det skulle lett kunne forveksles med et ekte øyeblikk, med mindre en nærmere titt avslørte noe annet.
Bjarne Bare skaper sine arbeider i en tradisjon av øyeblikksbilder. I hans serie «Time and time again in the Manchester of Poland» synes hans motiver å være snare og tatt fra en forbipasserendes perspektiv, men allikevel svært nøye komponert. Bare peker kameraet i uventede retninger og fanger opp det som andre kan ha gått forbi i hele sitt liv uten å legge merke til.
Fotografi er kjent for sin vitnefunksjon. I Geraldine van Wessems fotografier ser vi manglende fliser som har falt eller blitt revet ned fra veggen, rust som holder på med å spise opp en dør, og det som slår meg er at interiøret fremdeles lever. Likevel finnes det noe annet her, som om vi var vitne til et vitne. De gamle og nedslitte interiørene hadde levd og dødd da van Wessem kom for å avdekke tiår av aktivitet, forgangen funksjonalitet og hemmeligheter som skulle holdes på.
Hilde Jørgensens serie «time hang heavy» fremstår som en rekke forsider eller illustrasjoner for romaner. Forbløffende tilfeldige, men likevel fokusert, gir de inntrykk av å stå i en dyp uventet tilknytning til hverandre. Hvert bilde er bare det første steget inn i et hav av historier i svart-hvitt og blått om menneskeheten i forhold til biologi og sunnhet. «How sad life is» fremstiller et ødelagt trikkespor i et grovt svart-hvitt bilde. Det legemliggjør følelsen av hjelpeløshet. Hele serien roper ut om et forsøk på å rømme og gjenvinne kontrollen.
Røykende piper og blå overflater treffer betrakteren i «Seeing as a kind of belonging» av Katinka Goldberg. De fleste bildene er tatt på nært hold, de utforsker og senere finner sin plass i kollasjen «Yours and Mine». Som glimt av en umiddelbar refleksjon over tilværelsen skifter Goldbergs bilder fra å være enormt fjerne til voldsomt nære. Fra et virkelig utsyn over fabrikken til en skulpturell forestilling, sammen blir de til en felles opplevelse.
Maya Økland er faktisk både forfatter av denne teksten og deltaker. I mitt prosjekt har jeg satt min oppmerksomhet på hvordan fortid og nåtid, og gjentatte ganger også fremtid, eksisterer sammen og skjer samtidig. Dette er lett å oppdage i Łódź' rike historie med industrialisering, verdenskrig og kommunisme, som fortsatt setter farge på hverdagen til byens innbyggere. Nedlagte fabrikker vitner om en tapt domene, men symboliserer også fremtiden med potensialet som kan utløses gjennom renovering eller omfunksjonering.
Siri Sætres serier «Fable» og «Study of ghosts: Sorrow/Hope/Resignation» fremstiller drømmeaktige scener fra et polaroidkamera. I «Fable» er det uklart hvis bildet er et enkelt opptak med tre forskjellige objektiver, eller tre opptak fra tre forskjellige vinkler. Øyeblikkelige bilder uten mulighet for etterbehandling gir rom for kjemiske reaksjoner å gripe inn i komposisjonen, gi opp kontrollen og overlate alt til fantasien.
Hector Pina Barrios er den eneste deltakeren i dette prosjektet som ikke bare stoler på bilder. Med bakgrunn fra arkitektur arbeider Pina Barrios innenfor relasjonell estetikk og kommuniserer med sitt publikum. «Lodz instruction for landscape comprehension» sikter til å utfordre kreativiteten til lesere og oppmuntrer dem til å fullføre hans kunstverk gjennom å sende inn egne bilder av oppgaven. Resultatene vil deretter bli publisert i en spesiell blogg http://thelodzproject.wordpress.com/
En detaljert dokumentasjon av hva som synes å være en science fiction-film fra 60- eller 70-tallet utforsker 1900-tallets moderne teknologi i Yamile Calderons «Traces of the past». Det som kunne være et kontrollrom på et grønt moderskip er faktisk et nedlagt kraftverk. Likefremhet og velbalansert eksponering i Calderons komposisjoner danner et flott bakteppe for en livlig fantasi og fungerer som en grundig studie av en nedlagt tekstilfabrikk.
Finerer (rustne nr. 2, 4 & 5) av Marthe Elise Stramrud fører oss inn i en abstraksjon, som ifølge meg henspiller på onde Disney-figurer. Likevel, som tittelen avslører, fremstiller de en jernoverflate. En container i forfall med et urovekkende mønster som kommer tilbake til vår bevissthet. I Stramruds serie opphører tiden å eksistere, og betrakteren som står fanget i et hjørne har ikke noe annet valg enn å overgi seg.




Information about Flaggfabrikken Center for photography and
contemporary art:



Flaggfabrikken Center for photography and contemporary art
is a non-profit organization run by artists in Bergen, Norway.

Flaggfabrikken was initiated in 2003 when ten former students
from the department of Photography in Bergen National Academy of
the Arts decided to pursue their careers as artists in Bergen.
They came across an old flag factory in Møllendalsveien and
renovated it with the ambition to create individual working
spaces and to set up a local base of competence for contemporary
art and photography.
In 2005 a public event called Flaggfabrikken Presenterer was
established. The event is a one-night happening for contemporary
art that embrace a wide range of presentations such as video
screenings, performances, site specific art works, art talk
shows, debates, concerts, street art, slide shows, lectures and
self presentations.
In 2006 an International Artist in Residence was initiated with
kind support from the municipality of Bergen. Three times a
year, Flaggfabrikken receives a guest artist to live and work in
Bergen for a two months period. Flaggfabrikken´s total premises
consists of 5 permanent working spaces, one guest studio and a
digital workshop for advanced printing and scanning. Among
others Flaggfabrikken has received highly profiled artists like
Carlos Motta, Susanna Majuri, Jooyoung Lee, and Luis Guerra as
guest artists.

Today the members of Flaggfabrikken are well established
artists and also active as curators, writers, professors and
photographers.

Link
17.10.2010 :: 18:00
Komentuj (0)
Schedule of the ''Shaping Time'' Project
Link
17.10.2010 :: 18:39
Komentuj (0)
Ola Buczkowska Instalation
Link
28.10.2010 :: 09:07
Komentuj (0)
Touring Industrial Lodz
Link
28.10.2010 :: 12:09
Komentuj (0)
wet wollodion workshop
Link
28.10.2010 :: 12:13
Komentuj (0)